NFFS services: Trainings for Nonprofits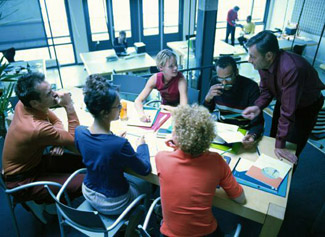 We offer customized trainings designed to give nonprofit staff and volunteers the tools they need to master essential skills in board development, fundraising and grant writing, planning, leadership, evaluation, and more. To build on the knowledge and experience that each participant brings, our trainers facilitate highly interactive sessions based on real-world situations. Our goal is to inspire, motivate, and prepare nonprofit leaders to transform organizational culture and capacity.
This is a partial list of training topics we deliver as workshops, day-long and multi-day trainings, and webinars.
Board Development, Sustainability Planning & Community-Based Asset Mapping
Inside the Nonprofit Board: Introduction to Nonprofit Governance
Inside the Nonprofit Board: Transforming Attitudes about Giving and Asking for Money
Developing a Plan for Sustainability
Community Mobilization and Asset Based Community Development
Fund Development
Creating a Sustainable Fund Development Plan
Developing a Major Gifts Program (Introductory and Advanced)
Identifying the Major Donor Prospect and Making the Ask
Raising Money in Tough Times: Getting Creative, Focused, and Connected
Grant Writing
Introduction to Proposal Writing
Applying for Federal Grants and Cooperative Agreements
Winning Grants from Private Foundations
Grant Prospecting
Cover Letters, Letters of Inquiry and Concept Papers
The Core of a Winning Grant Proposal: Persuasive Writing
Extreme Grant Proposal Makeover
How to Prepare the Application Budget
Making Sense of the Grantmaker's Lingo
Ethics in Grantwriting
Essential Skills for Grantwriters
Grantwriting for Sustainability
Advanced Grant Writers Clinic
Youth-Led Grantwriting
Evaluation
Prove and Improve: Evaluation Planning and Design
Making Sense of Evaluation
Participatory Evaluation from Grassroots Organizing to International Development