State Data Center: Massachusetts Economic Due Diligence Report
For more than a decade, the State Data Center has produced the quarterly Massachusetts Economic Due Diligence report for the Massachusetts State Treasurer's Office of Debt Management. This public document is available to all, prepared for credit rating agencies and investors to evaluate economic and financial conditions and prospects of the Commonwealth of Massachusetts.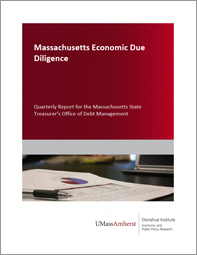 Latest Report
Fourth Quarter 2021
The State Data Center at the Institute produces and publishes a comprehensive economic overview, the Due Diligence document. This is a quarterly report prepared under contract for the Massachusetts State Treasurer's Department of Debt Management.
Download Report