Lecture on truck art delivered at Pakistan American Cultural Center in Karachi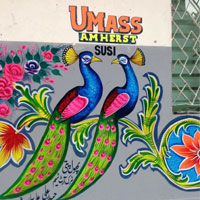 Mike Hannahan, Civic Initiative Director, and Becky Howland, Program Manager, visited the Pakistan American Cultural Center during a recent trip to Karachi, Pakistan.
The visit included painting a mural at the center done the locally popular "truck art" style. The link below is for a Urdu-language video news story. Learn more about the event on this English language blog.
Mr. Hannahan and Ms. Howland were also in Karachi to meet with representatives of three universities in Balochistan, Pakistan to finalize plans for cultural exchanges with the University of Massachusetts.
Read article: Lecture on truck art delivered at Pakistan American Cultural Center in Karachi
Go Back