Hometown patriotism on display: Chesterfield's Fourth of July parade draws big crowd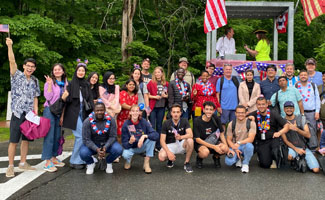 The Civic Initiative got a mention in Daily Hampshire Gazette about their attendance at the Chesterfield parade! The foreign exchange program participants have been going to this small town parade every year for the 4th of July for a very long time. Many of the Civic alumni will remember it. Although it was a rainy day, the nearly 60 participants celebrated just as loudly and passionately as the residents of Chesterfield and the surrounding hilltowns.
This summer, the Civic Intiative hosted three programs: a group of 17 political science from as many countries, a group of budding 20 entreprenuers from the Middle East and North Africa and a cohort of 20 college students from Pakistan. Learn more about the Civic Initiative.
Read article: Hometown patriotism on display: Chesterfield's Fourth of July parade draws big crowd
Go Back