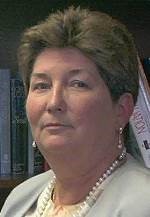 J. Lynn Griesemer, Ed.D., M.P.A. retired in 2018 after serving for 31 years with the UMass Donahue Institute. During that time, Dr. Griesemer served as the Associate Vice President for Economic Development at the UMass President's Office for 25 years and Executive Director of the UMass Donahue Institute for 19 years. She is also an adjunct professor in the Public Policy and Administration program at UMass Amherst. Prior to joining the University, Dr. Griesemer was the Executive Director of the Northeast Regional Exchange, a seven-state, non-profit collaborative in education for New England and New York. At the University of Rhode Island, she also held a faculty position and was the director of an education research and evaluation center.
Dr. Griesemer holds a bachelor's degree in mathematics from Cedar Crest College, a master's in mathematics education from the University of Tennessee, and a master's in public administration from the Kennedy School at Harvard University, where she was a Littauer Fellow. She received her doctorate in educational administration and curriculum from the University of Tennessee.
Since the formation of the University's five-campus system in 1991, Dr. Griesemer has worked closely with the UMass President's Office, managing several system-wide projects in economic development and related areas.
Phone: 413-530-3629