Resources
ODLS Quick Guides Series
We created this series of guides to address common topics for existing clients, future clients, and curious minds in general. In each volume, we briefly address some of the key concepts and concerns associated with the topic, offer guidance and best practices, and provide additional resources. We hope the series inspires confidence and creativity in your present and future projects.
Learning Objectives: a guide to writing measurable learning objectives
Digital Accessibility: a guide to standards and best practices to ensure that online learning resources are accessible
ELearning Interactions: a gallery of eLearning interaction examples
Accessibility in Microsoft Word: a guide to ensure accessibility with your Word document
More quick guides to follow!
---
Tips and Best Practices for Improving:
Cross-Cultural Communication Skills
Cybersecurity Improvement in Your Organization
Developing e-Learning Materials
Developing an impactful Management Development Curriculum
Establishing a Virtual Learning Environment
Promoting Equality in the Workplace
---
ODLS Newsletter Archive
Read past issues of Successful Solutions, the newsletter of Organizational Development & Learning Solutions at the UMass Donahue Institute.
To receive future issues, subscribe here.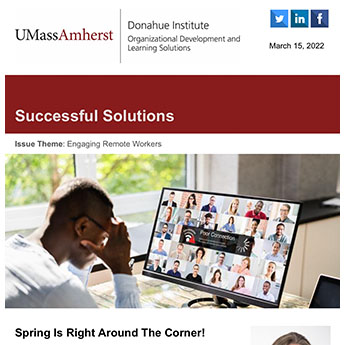 2022
Spring: Engaging remote workers with technology, huddles and our top ten tips!
2021
Fall: Helping our clients with planning and running with hybrid meetings and trainings.
Summer: Skill-building for new managers, Leadership Excellence Certificate Program
Special Update: Online Leadership Excellence training launch
2020
Fall: ODLS website upgrade highlights
Summer: Bringing professional development into the virtual world
Special Update: Running successful webinars
Special Update: Transferring Classroom-based Training to a Virtual Learning Environment
Spring: COVID and going virtual, management training curriculum development, Lynn Griesemer, STAR 360 assessments, 10 tips for impactful management development curriculum

2019

Fall: Cybersecurity theme includes spotlighted vendor, staff and10 tips for cyber-safety
Summer: Blended Learning, Experience Autism, Mass. Trial Court, Scott Hancock, Dana Remian
Spring: Cross-cultural communications, Trip to Pakistan, UMass Civic Initiative, Ken LeBlond, Kiss, Bow, or Shake Hands

2018
Fall: Communication styles, organizational communications, assessments, 10 Best Practices for Improving Your Communication
Summer: Peer mentoring, Massachusetts Department of Banks, Springfield Police Department, Jacob Ward, 10 Best Practices for Peer Mentoring
Spring: Knowledge transfer, Client Spotlight: Department of Fire Services, Contractor Spotlight: Nina Coil, Recommended Vendor: Hogan Assessments
Winter: Workplace diversity, Workforce Planning, Client Spotlight: Massachusetts Trial Court, Recommended Vendor: Morgan, Brown & Joy, LLP, Contractor Spotlight: Vanessa McClinchy.
2017
Fall: Team-building, workforce planning, 10 tips for leading a virtual team, recommended vendor: Tara Hall, client spotlight: Department of Elementary and Secondary Education, contractor spotlight: CRG Consulting
Summer: Training needs survey, webinar series for new managers, Integrity Solutions partnership, client spotlight: Massachusetts Department of Developmental Services, tip on developing e-Learning materials, Kathryn Swaim spotlight
Spring: Dana Henry on board as ODLS director, new at ODLS, client spotlight: Dept. of Mental Health, Jessica Horton spotlight
2016
Fall: E-learning solutions, The Coaching Center, organizational assessments, Dana Bienkowski spotlight
Spring: Announcing The Coaching Center, the value of assessments, knowledge transfer, ATD regional conference
Winter: Training grants available from Massachusetts, virtual training options, event management, baby boomer retirements and the "knowledge gap"