Newsletter archive for Organizational Development & Learning Solutions
Read past issues of Successful Solutions, the newsletter of Organizational Development & Learning Solutions at UMass Donahue Institute.
To receive future issues, subscribe here.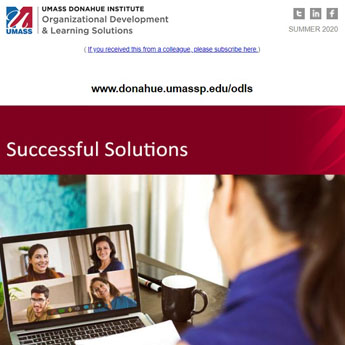 2020
Summer 2020: Bringing professional development into the virtual world
Special Update: Running successful webinars
Special Update: Transferring Classroom-based Training to a Virtual Learning Environment
Spring: COVID and going virtual, management training curriculum development, Lynn Griesemer, STAR 360 assessments, 10 tips for impactful management development curriculum.

2019

Fall: Cybersecurity theme includes spotlighted vendor, staff and Top 10 tips for cyber-safety
Summer: Blended Learning, Experience Autism, Mass. Trial Court, Scott Hancock, Dana Remian
Spring: Cross-cultural communications, Trip to Pakistan, UMass Civic Initiative, Ken LeBlond, Kiss, Bow, or Shake Hands

2018
Fall: Communication styles, organizational communications, assessments, 10 Best Practices for Improving Your Communication
2017
Fall: Team-building, workforce planning, 10 tips for leading a virtual team, recommended vendor: Tara Hall, client spotlight: Department of Elementary and Secondary Education, contractor spotlight: CRG Consulting
2016
Fall: E-learning solutions, The Coaching Center, organizational assessments, Dana Bienkowski spotlight
Spring: Announcing The Coaching Center, the value of assessments, knowledge transfer, ATD regional conference
Winter: Training grants available from Mass, virtual training options, event management, baby boomer retirements and the "knowledge gap"