Organizational Development Consulting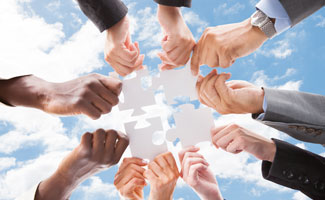 Organizational development describes a dynamic process that both creates and manages transformation. We help leaders and organizations articulate goals and initiate change and prepare them to anticipate, understand and respond to all phases of change.
Organizational Needs Assessment: This provides a starting point for the business improvement process. Looking at work practices, environment and organizational structure from an experienced and objective viewpoint, we're able to assess productivity, efficiency and capacity, and then offer suggestions on where change is needed and how to implement it. We do this through interviews, structured focus groups and customized online surveys focusing on specific needs. Some specific types of needs assessments we can conduct are: process improvement, learning needs analysis, change management and job analysis.
Strategic Planning: Effective strategic planning can serve as the master blueprint for a successful business improvement process. Without effective planning, organizations can make costly, time-consuming mistakes that can thwart the business improvement process.Our senior consultants can work with your Executive Team Leaders to re-align strategic goals; define metrics for tracking progress; re-prioritize strategic initiatives in alignment with goals and increase accountability to ensure follow-up on action items. We will help to ensure that your senior leaders work more collaboratively and productively to create a strategic plan that is practical, relevant and actionable.
Talent Management: Our consultants are skilled in the application of competencies to focus and align your Talent Practices, from selection and assessment through performance management, high potential development and succession planning. Our Talent Management services include Team Building, New Manager On-boarding, 360 Assessment and Coaching, Performance Management, Employee Engagement, and Succession Planning.
One of our core offerings is providing team building sessions that can focus on executive leadership teams to any newly formed team. We offer a number of off-the-shelf team building interventions and can custom design a session based on a team's specific challenges. We use instruments such as MBTI, DiSC, and the Hogan assessment suite to help team members align and leverage their diversity.
Team Development and Team Assessments Services:
Team Development Workshops - can be offered off-the-shelf or can be custom designed based on a team's specific learning needs.
Facilitated Team Development Retreats – can be designed for Executive level teams as well as newly formed functional teams; the focus will be determined based on type of team; maturity level; specific challenges and/or learning goals.
Team Needs Assessments - can be structured utilizing a number of different instruments including: *Team Dimensions™; *Everything DiSC Workplace; *Five Behaviors of a Cohesive Team using DiSC®; *Five Behaviors of a Cohesive Team using All Types™ (MBTI); *PSS 20/20® Team Skills Assessments; the Hogan Assessment suite and the OPM 360 Assessment. (*Note: these assessments are available through our partnership with CRG Consulting.).