Virtual Learning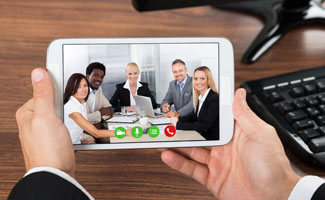 Most organizations today have a workforce that is geographically diverse across multiple time zones. To meet the learning needs of these audiences virtual learning is a flexible solution. Technology has improved the quality of how virtual learning can now be delivered, providing a learning experience that is engaging and impactful. A virtual learning solution can be a combination of synchronous webinars or a-synchronous (On-Demand) e-Learning modules and can be blended with more traditional classroom training.
E-Learning modules: Our team of experts can custom build e-Learning modules to focus on your organizations unique learning needs. We have the instructional design expertise, storyline developers, graphic designers and video professionals to turn any topic/subject into an engaging learning experience that your employees can access 24/7.
Webinars: To meet the needs of the growing remote workforce, we offer programs designed and facilitated in a virtual synchronous mode. For organizations that have geographically remote locations, this may represent the ideal learning solution. Led by trained and certified virtual facilitators, our programs can be offered in 60-90 minute modules with highly interactive formats to engage participants most effectively.
Blended Learning: For the optimal learning experience, we can provide a custom solution consisting of any combination of classroom, online, and synchronous virtual learning experiences. All of our customized training offerings may be offered in a blended format to best meet the needs of each client.
Learning Portals: To enhance the learning experience we offer our client's custom designed Learning Portals that provide a seamless learning environment to participants. Learners can go to one online site to access on demand e-Learning modules; schedules and topic listings for classroom and webinar training sessions; links to recorded webinars; support documents such as FAQs; 24/7 support call line and live threaded discussions with subject matter experts.
Learn more about our virtual training offerings by contacting Dana Henry, ODLS director, at dhenry@donahue.umassp.edu.